A DALL-E 2 user has posted a series of terrifying images created by the artificially intelligent (AI) software that depicts the last selfie ever taken.
The apocalyptic and nightmarish images detail ghoulish beings staring into the lens as the world crumbles all around them.
Robot Overloards posted the video series to his TikTok page, where he posts other creepy images that have been generated by the AI machine DALL-E 2.
The selfie images, which were generated by the prompt "selfie at the end of the world," have proven to be incredibly popular with one of the creator's videos receiving over 13 million views and over two million likes. Typical comments include: "I didn't plan on sleeping anyway." While others comically quipped: "Average day in Ohio."
The creator also asked DALL-E to show the "last selfie ever taken in the apocalypse." Perhaps predictably DALL-E generated images of burning buildings and charred streets. One image has flashes of light in the sky behind the selfie taker, while another image has planet Earth levitating in the sky, maybe suggesting that the human race has moved to the Moon or elsewhere.
A striking aspect is the characters themselves, some of which appear to be zombies or even aliens. One particular frightening image shows a figure dressed in a black plague-type outfit with other similar haunting figures standing behind them.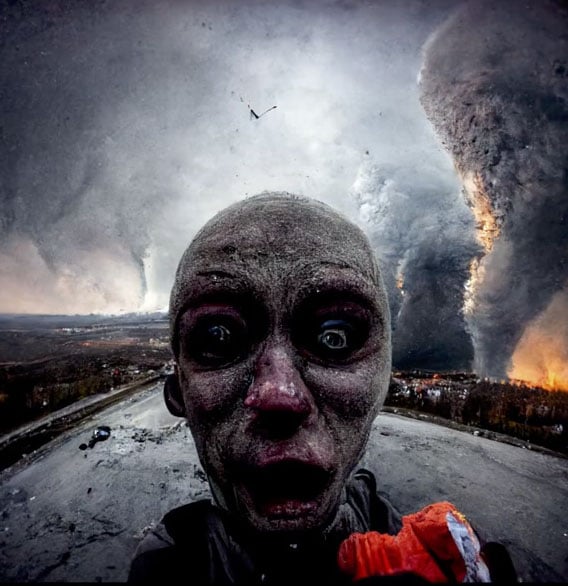 The TikTok creator has made other images from DALL-E by asking it things like: "Show me animals not discovered yet," and "smartphone photos during the Black Death."
DALL-E Beta
OpenAI, the company behind DALL-E, recently announced the beta version and has said that one million people on the waiting list for the software will now be able to start using the talked-about program.
The AI image generator has been in development for some time and scrapes the web for images to learn what things are, the program will draw clues from captions attached to images. This explains the fiery, zombie elements when using the word "apocalypse" in the prompt.
The algorithms inside the AI eventually find patterns within the images and can associate them with captions. Because it then knows what an image should look like, it can generate it from whatever prompts the user puts in.
---
Image credits: All photos created by Robot Overloards using DALL-E.